XBMC Weather station script
Introduction
Watch weather data on the XBMC media center. The script reads the log file created with histlog2300.exe and log2300.exe and generates a screen with graphs.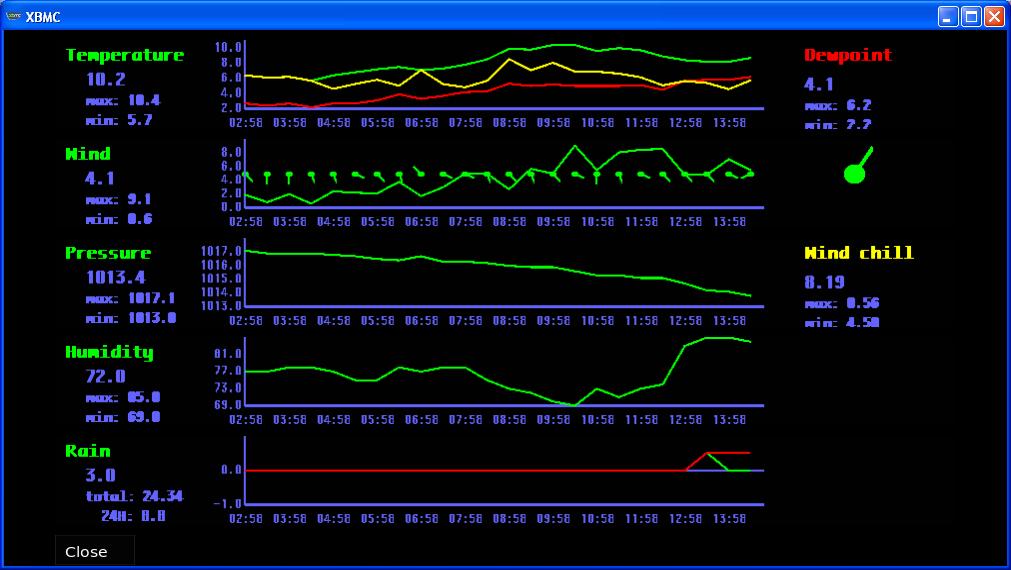 Detailed Description
Give more details as required
Attached Files
You can download the script here:
Weather_station.zip
Installation
Unzip the zip to the script section e.g c:\Program files\XBMC\scripts In XBMC go to the script section and Weather station should appear. Select Weather Station and the script should start showing a progress dialog and after a few seconds the graphs. At this point the script contains dummy data used for test in order to get real weather data you should configure open2300 to generate the needed log files. I have included the needed open2300 applications for windows in the folder scriptpath"\Weather station\lib\stations\open2300". If you are using Linux you need to download the right package for your distribution and copy the needed applications (histlog,interval2300 and log2300) to this folder.
Users Guide
In the config file "scriptpath\Weather station\lib\stations\open2300\open2300.conf" you should set the parameter SERIAL_DEVICE to the right com port. To test that the connection to the weather station is working try to run the command
log2300 log2300.log
from a terminal window and examine that the log file contains the correct content. The weather station has a nice feature to store the history for several hours witch makes it possible to turn of the computer at night and when not used. By running the command
histlog histlog.log
all history data are save to the file histlog.log. Default is to store a dataset each hour if you want to change this use the application interval2300 by running the command
interval2300 30 30
(save a dataset every 30 min) be aware that all current history data is deleted. At last you have to run the commands
histog histlog.log
and
log2300 log2300.log
at regulary basis thru cron or as a scheduled task in windows. histlog needs to run every 30 min and log2300 every 5 min (or less).
Note in Windows
: When you create a scheduled task it seems as it is not possible to select less than one day as duration that is ok at the end of the guide you have the possibility to select advanced settings and here you have the possibility to set repeat. Also you have to modify the path to include the histlog.log as a parameter
---
Nice! Any experience with running on XBMC on Ubuntu? You mention "download the right package", but that is a package for what? The serial port maybe? What about using a network share? I suppose people save the Open2300-data on some storage so it would be nice to share this data (samba or nfs) and have XBMC read that share. Ed --
C4Vette
- 01 May 2012
--
kost
---